THE MOST PROFITABLE INVESTMENT YOU CAN MAKE...
IS IN YOURSELF
Take a Look Inside the Course
Simon Beylin,
DDS, MMSc, MDT
"
Honestly, your online course, followed by mentorship was exactly what I was looking for, and what gave me the confidence to make the big steps. I am very grateful for your support. On a single phone call, Greg made a simple suggestion (simple if you have 35 years of experience) that not only saved $3 million is site work, but it also provided the opportunity to add 15 additional units in an area where townhomes of this caliber sell for nearly $1 million dollars. I went from clinical endodontics, to construction, to development and wiith Greg's guidance, I am stepping away from my clinical practice of endodontics with the an eight figure sale of my offices. Through Greg's mentorship, I have grown my real estate development business to the point of having $50 million currently under construction. I am a develop to hold investor, as well as an operator of a commercial and residential construction company."
Gil Fleming
"I saw your video that one conversation can change your life. You just changed my life! I bought your course bundle for $195. Your video in the course...Find your Superpower! Had a huge impact. I have started a Youtube channel called...62orbetter. I have been playing around with this idea. I'm newly retired. I want to do something for fun. I want to talk to my peers. Folks who have "done their time" and are no longer struggling with building a business and building their retirement. They have "crossed the finish line"! I was wondering, what do I have to offer on a utube channel. I was really motivated and excited after seeing Find your Superpower. I have a number of things that I could offer. Thanks for making a difference in my life"!
Nicholas Montenegro
"You are the one who helped me get my real estate development company started. I'm 23 right now and your videos helped fill in a lot of the blanks in knowledge I needed to get started."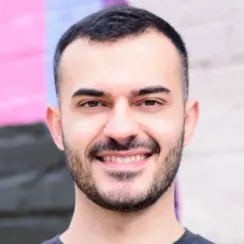 Alex Jarbo
"I've been working with Greg for the past year. When I first started with Greg I had 1 short term rental worth about $200,000. In the past year Greg has helped me scale my business to $6,000,000 worth of short-term rentals and we're currently acquiring or developing over $10,000,000 worth of short-term rentals. I'm expected to make about $650,000 in cash flow by the end of this year and most of the real estate purchased was with other people's money. I've been featured on over 55 of the top real estate and entrepreneur podcasts just last year. I am also the main contributor to Bigger Pocket's short term rental blog. Greg has also been foundational in launching my coaching program which will cross 7 figures this year. None of anything that I have accomplished in the last 12 months would have been possible without Greg's mentorship and insights."
Sue Borrelli
Borrelli Homes LLC
"We signed up for Greg's Residential Real Estate Investing course a couple weeks ago & already got our money's worth! With 6 years of investing under our belts, Greg nailed exactly what we needed within the first 5 minutes. He's given us amazing resources to launch us forward and we hit our first $1 million dollar year!"
Van Johnson
Fast Home Buyers
"I'm glad that I listened to the podcast where you were featured. It's been a wonderful experience to have you as my coach. You are genuine, knowledgeable, and blunt and I love it. Your energy and passion exude in how you develop, teach, and train. The money spent on coaching was more than worth it, if you wanted to charge more you most certainly could. It's been a blessing and I look forward to more real estate growth and continuing this journey with you"
Mario Acari
"These courses are awesome I have watched them all , the knowledge is worth a fortune to me when I apply it to my businesses . I also signed up for the one on one coaching and have received high benifets , being able to get advice and coaching on issues that I'm working on . It gives me a lot of confidence knowing I have Greg in my corner when I need guidance in business. I am new to the development business and have made Hugh progress working with Greg . I watched his daily videos for months and then made the decision to sign up for the one on one coaching , best decision I made .
Thanks Greg . He is always available when I need him."
Charles Borrelli
Borrelli Homes LLC
"Within a week I applied a negotiation technique he taught and saved $7000.00 and we did our first $1million dollar year! Very glad I took the course."
Grant Cardone
"People should be listening to you. Greg Dickerson is one of the most objective people you will meet. Make sure to check out The Greg Dickerson Show."
Dr. Josh Cochran, DMD
"Greg inspires me with his unique ability to amalgamate: a. mindset, b. knowledge of real estate and business, and, most importantly, c. the art of implementation, into success at a scale and velocity superior to anyone in my local networks. I strive to surround myself with those better than myself, and Greg uplifts my dental group leadership and my commercial real estate development with gracious humility."
Joe Fairless
Co-Founder Ashcroft Capital $1.7 Billion AUM
"I recommend working with Greg Dickerson. As a business consultant, he has a knack for cutting to the heart of the challenges you're facing and giving you actionable advice. The investment I made by bringing him on my team was returned 10 fold as a result of the advice he gave me that I acted on." - Joe Fairless, co-founder of Ashcroft Capital
Dr. Vikram Raya MD, FACC, Dr. Ravi Gupta MD
Founders of Viking Capital $600 Million AUM
For a couple of high achievers, having another business/mindset/real estate coach is in many cases not helpful or even detrimental. However we are truly blessed to have Greg Dickerson as our consultant/coach/strategist. He has had a 1000% impact from day 1, he has been most accessible, and his straight forward, but compelling style has truly accelerated our growth as a multifamily investment company. He imparts business optimization strategies, to reduce unnecessary complexity so our company is nimble, agile and is set up for explosive growth. In In just the first 90 days, Greg has positively impacted our company in numerous ways; 1) helped us interview and hire a director of acquisitions, 2) introduced to equity/capital partners, 3) aided in launching our Coaching/Mentorship program and 4) provided us instrumental strategies on navigating and minimizing our tax burden. Getting Greg on our team has been crucial to our success, and we are ready for explosive growth ahead.
Myers Barnes
America's Favorite New Home Sale Expert
Myers is one of the world's most requested speakers and advisors for new home sales seminars and manager training.
"Greg gave me one book recommendation that resulted in a $500,000 Real Estate deal"
Danny Johnson
Flipping Junkie
"I'm extremely thankful to have met Greg. When I interviewed on him on the FlippingJunkie podcast, I only knew he was doing real estate development. It turns out, this guy is a solid business coach!! During the episode (http://flippingjunkie.com/132), Greg talks about how he's taken some of his tradespeople and helped them build their businesses up. He knows how to build companies. I was so intrigued I asked if he wouldn't mind providing weekly coaching for me. That was over 6 months ago! The insights he provides on a weekly basis have helped us to cut the learning curve tremendously. Thanks for being such a huge asset to our business!"
Liz Donahey
Entrepreneur & Coach
"It's very rare in life and in business that you get to meet someone as influential and genuine as Greg Dickerson. He clearly sees and elevates our strengths and potential better than we can on our own. His refreshingly direct and honest approach has improved my life and I'm grateful for him."
Melissa Johnson
Entrepreneur, Coach and Mentor
"Under Greg's mentorship, I've received the benefit of his guidance, encouragement, and knowledge to help me launch a new business at a time in my life when I knew I needed help. Working with Greg has made a huge impact on my business and life, and has allowed me to fulfill my dream of helping and encouraging others as well. Greg is the embodiment of what a true coach and mentor should be and I am thankful to have had the opportunity to work with him."
Dr. Chris Stewart, DPM, PD
Founder CEO NovoNail
"Greg Dickerson helped my startup company work through a challenging time by providing clarity, direction and visionary options with respect to both short and long-term goals. I recommend Greg Dickerson to anyone looking for a business consultant who is energetic, ethical and thoughtful." Dr. Christopher B. Stewart, Novonail, LLC
Jason Yarusi
Yarusi Holdings
"Greg is a wealth of information and life experience. He provided great guidance on expanding our business and what the key components would look like to see that manifest. Super informative and greatly experienced."